Recipes
Chocolate Olive Oil Cake
Filled with chocolate goodness that makes it impossible not to go for seconds.
---
Preparation Time
10 minutes
Cook Time
2 minutes 30 seconds
---
Where is my microwave's power level?
Check your microwaves owners manual (if you're one of those that keep those things) or look up your model number online and check its wattage.
Microwave Wattage:
1200W
1100W
1000W
900W
800W
700W
600W
500W
Ingredients
¼

cup extra-virgin olive oil

3

tbsp hot water

1/3

cup sugar

½

cup flour

1 ½

tbsp cacao powder

¼

tsp cinnamon powder

1

tsp baking powder

1

egg

½

tsp vanilla extract

For the ganache:

2

oz quality dark chocolate

3

tbsp heavy cream
Step 1
Grease small silicone microwavable cake dish with oil.
Step 2
In a small bowl, whisk oil, sugar, water, egg, and vanilla.
Step 3
In a separate bowl, whisk together flour, cacao, cinnamon, and baking powder.
Step 4
Pour the liquid ingredients into the dry ingredients. Whisk until batter is smooth.
Step 5
Pour the batter into silicone cake dish. Cover the cake with Duo Cover.
Step 6
Microwave the cake for 2 minutes at Power Level 10. Remove the cake from the microwave and set aside.
Step 7
Make the ganache: in a small bowl, combine chocolate and heavy cream. Cover with Duo Cover and microwave for 30 seconds at Power Level 10.
Step 8
Pour the ganache evenly over the cake.
Step 9
Place the cake in a fridge for 1 hour before serving.
Guidelines & Tips
Gluten Free option: use either almond flour or gluten free all-purpose flour.
Vegan option: instead of egg, use ¼ cup apple sauce or one flax egg.
You can divide the batter between four mugs.
What you'll need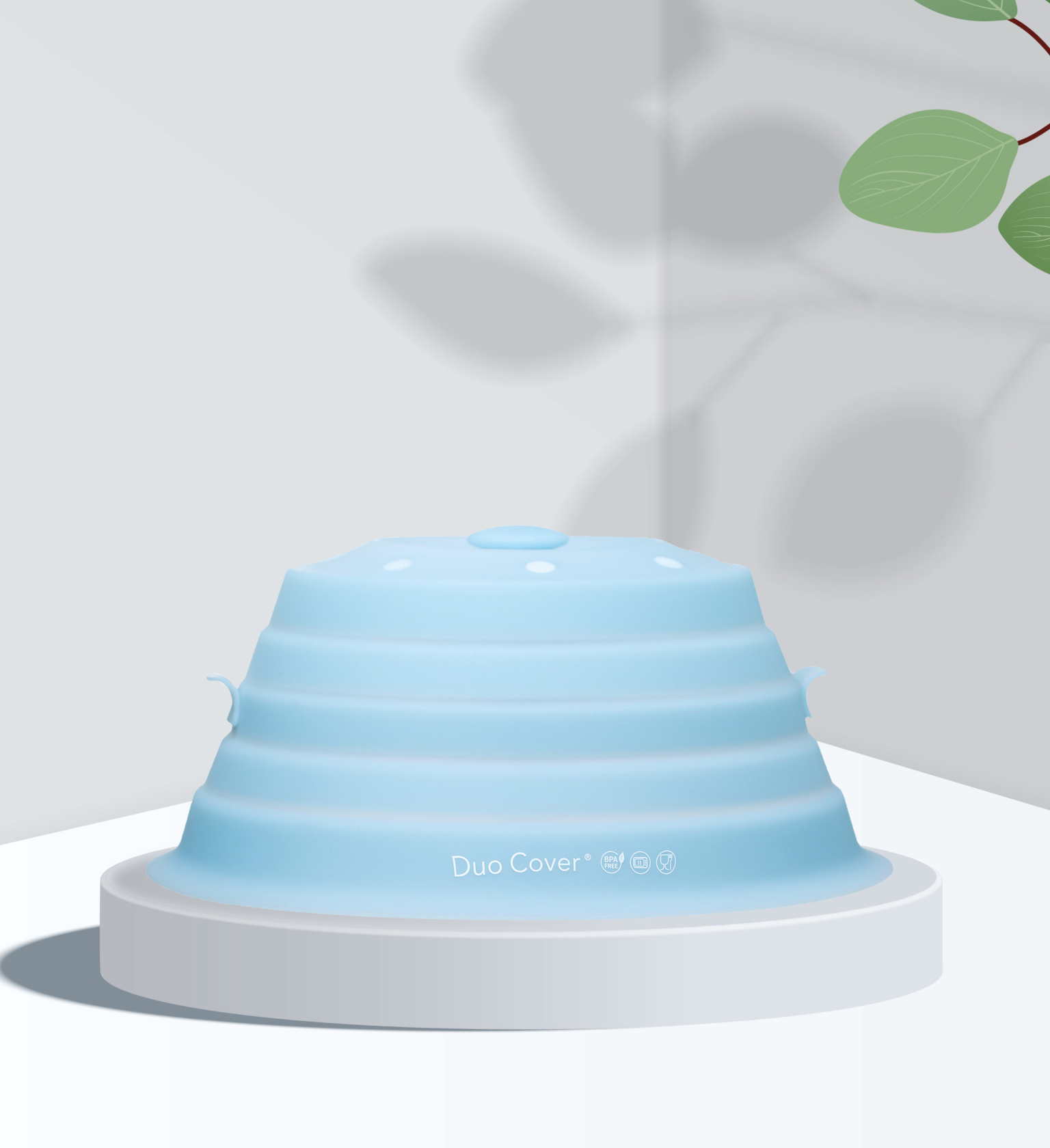 Duo Cover® | $29.99
Duo Cover is a next generation microwave gadget that increases moisture in your food through its MoistureLock™ technology. It delivers leftovers that taste better than the first time and a sparkling clean microwave.
Easy stowaway with microwave-safe magnets.
Plus, it saves your fingers from those 'ouchie' moments when plates get hot!