Recipes
Parmesan Chicken with Quinoa
A healthy alternative to a classic dish that will surely be a new dinner table staple.
---
Preparation Time
35 minutes
---
Where is my microwave's power level?
Check your microwaves owners manual (if you're one of those that keep those things) or look up your model number online and check its wattage.
Microwave Wattage:
1200W
1100W
1000W
900W
800W
700W
600W
500W
Ingredients
4

chicken breasts fillets (skinless & boneless)

2

tbsp coconut aminos or soy sauce

1

tsp garlic powder

½

cup freshly grated Parmesan cheese

2

tsp butter

salt and pepper to taste

For the quinoa:

1 ½

cup quinoa (rinsed & drained)

2 2/3

cups chicken stock
Step 1
Prepare the chicken: in a microwave safe large deep dish, combine chicken with coconut aminos, garlic powder, and salt and pepper. Cover and refrigerate chicken for 10 minutes.
Step 2
Transfer the chicken to a medium shallow dish or pie plate (6-cup capacity)
Step 3
Cover with Duo Cover and cook for 10 minutes at Power Level 10. Sprinkle the chicken with parmesan and microwave for another 3 minutes. Remove the chicken and Duo Cover from the microwave. Check the chicken with a meat thermometer — it should be 165ºF, otherwise cook for another 30 seconds.
Step 4
Make the quinoa: combine quinoa with chicken stock in a deep dish. Cook the quinoa for 6 minutes at Power Level 10. Stop the microwave and repeat 6-minute cycle again.
Step 5
Fluff quinoa with fork and serve with parmesan chicken.
Guidelines & Tips
A meat thermometer is needed for this recipe — chicken needs to be 165ºF.
To ensure chicken cooks evenly, flip the chicken halfway through the cooking in step #3
What you'll need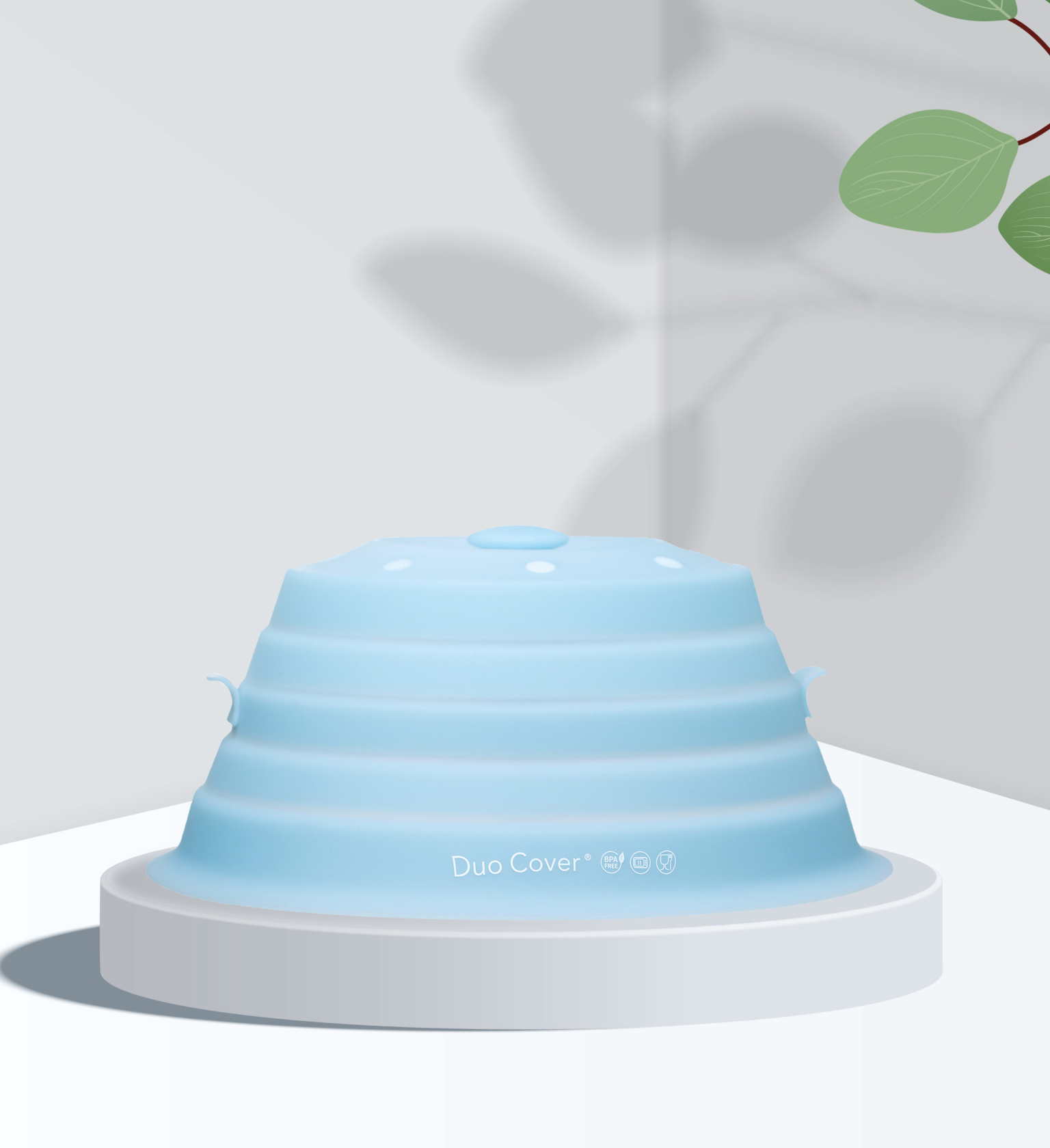 Duo Cover® | $29.99
Duo Cover is a next generation microwave gadget that increases moisture in your food through its MoistureLock™ technology. It delivers leftovers that taste better than the first time and a sparkling clean microwave.
Easy stowaway with microwave-safe magnets.
Plus, it saves your fingers from those 'ouchie' moments when plates get hot!